Meet the Teachers

Judy Fenton

Judy has been the proud owner/operator of Millcreek Sewing & Fabric for the last 22 years. She also has brought to life Needle in a Haystack—a premiere quilting retreat for 22 enthusiasts—and is the nucleus behind Quilting at the Bayfront, where over 100 quilts are displayed from local guilds, nationally known "sew-lebrities" offer instruction and inspiration, and vendors offer the latest in "must-haves".
Busy, she is. All of the hats she wears, however, revolve around needle and thread. Judy is a devoted dealer of Baby Lock machines that are used for quilting, sewing, embroidery and serging. She is passionate that her customers know how to use their new machines and offers lifetime lessons to insure they do.
Judy loves to teach. She has presented lectures and classes nationwide for 20 years and has recently teamed up with Karen Taylor to offer quilting and embroidery cruises for the past three years. Whether in a class of 10 or 100, those attending benefit from her vast knowledge of all things sewing.
Judy lives in Findley Lake, New York, with her husband Jeff, and enjoys daily the company of her daughter Megan and her grandchildren. She's also been known to begin or end her day taking a picture of a glorious sunrise or sunset and encouraging all of us to enjoy this free beauty.
Katherine Artnies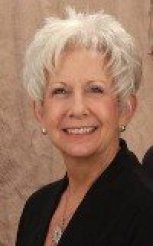 In 2001 Katherine Artines walked into Millcreek Sewing & Fabric in search of a new sewing machine. She walked out with her first embroidery machine and digitizing software. These life-changing tools had her stepping onto a new path that has led her to teach Dance with Your Destiny classes and gave her a long-time friend in Judy Fenton.
Katherine began her love of embroidery software with Palette and all of the Designer's Gallery line. She has also created over 40 online videos for the Inspired by dime software series. She has contributed articles and projects for over 15 years to Designs in Machine Embroidery magazine and has written two books published by DIME, Welcome, Baby!, and Posh Pincushions, as well as the Stipple! Sassy Cats collection. Too, Katherine has been a guest lecturer for BabyLock Love of Sewing events. She is a recurring vendor at Quilting on the Bayfront, offering wearable art to fabric and fiber lovers. In her pre-embroidery life, she owned a computer training center for 15 years.
Katherine's home, studio, and support are in Erie, Pennsylvania, with Paul, her husband of 42 years. Her children and grandchildren are the inspiration for many of her creative endeavors.